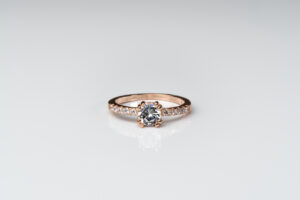 We use engagement rings as a symbol of love and care that exists in our relationship. Almost all people look for unique wedding rings because they consider their relationship unique and irreplaceable. Three-stone diamond setting provides another level to this symbolism of love. So if you want your engagement ring to be more meaningful than just being beautiful, the three-stone engagement ring can be perfect for you.
Significance Of Three-Stoned Engagement Ring Setting
More than just being good-looking, the three stones in this setting have different meanings. The three stones in this setting represent the past, present, and future of the relationship. The middle stone is mostly the biggest diamond and this diamond represents the bright future they are going to live together.
The stones can also represent the Holy Trinity for those who are spiritual. If you research the three-stone setting, you can also see that they can represent friendship, fidelity, and love or even convey a religious connotation.
A Vast Number Of Customizations Are Possible
The main advantage of a three-stone setting is that you can do customizations as you wish. There are many combinations you can use for the setting. You can use three diamonds of the same size or the center diamond larger than the other two. You can also combine other gemstones like ruby and diamonds in your setting and make it an astonishing one. If you like the halo around your stone. Also, the shapes of all the three diamonds needn't be the same. You can choose different shapes according to your taste.
Can You Afford A Three-Stone Setting Ring?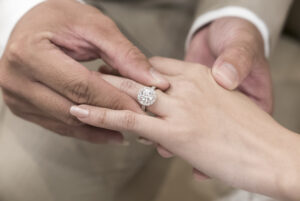 You may be thinking that there are three diamonds in this setting and maybe it is not affordable. Yes, it is going to be costly if you are going for three diamonds with greater carat size. You have to pay for three stones, so you can go for small carat size diamonds. Keep in mind that the price of a diamond increases exponentially with its carat size. So rather than buying a 3-carat diamond, you can buy three 1-carat diamonds and use them in this setting. This can help you save a lot of money. If you are still finding it difficult to afford, you go for lab-grown diamonds which only cost about 60% of a similar quality natural diamond.