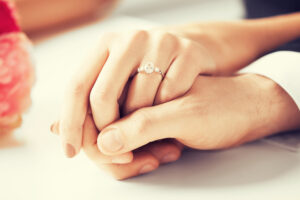 The paving technique in a diamond refers to the fixing of small diamonds all around the ring. Pave setting is used for hundreds of years and is still very commonly used. The paved diamonds can be arranged in a single row or many rows. The paving of diamonds improves the appearance of the diamond ring and it also emphasizes the main diamond. Pave settings can be provided to almost all diamond ring styles and is hence common among engagement rings. Using of lab-grown diamonds for the pave and a natural diamond for the center diamond is also becoming popular.
There are holes made around the ring for the seating of the paved diamonds. Also, small metal prongs are provided to hold the paved diamonds in place. Even though there are prongs to support the diamonds, you have to be very careful when handling a paved diamond ring. Prevent the diamond from hitting somewhere or the small diamonds can come loose.
Is Pave Setting Beneficial?
Pave setting provides the diamond ring with extra brilliance and makes it look extravagant. Also, the pave setting highlights the center diamond and the overall appearance of the diamond ring. If you are using a narrow ring band for the pave setting, it can emphasize the center diamond even more.
Disadvantages Of Pave Setting
The number of diamonds in a pave setting is relatively very high compared to other settings. Also, these are very small diamonds. So if you are using a pave set diamond ring, you have to be careful because of its delicacy. The small diamonds can get loose and get lost if the ring gets an impact.
More diamonds mean more price. The small diamonds are not that expensive when compared to the center diamond. But it has its cost. Also, skilled labor is required to pave diamonds. This additional labor also increases the price of the diamond ring setting.
Taking Care Of Your Pave Setting Diamond Ring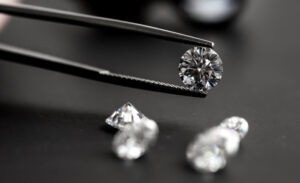 Remove your ring before you are going for any physically demanding activities.
Also, take extra care when you are cleaning the diamond ring. When a polishing cloth is used, the fiber strands can snag the metal prongs and this can make the diamond loose. Loose diamonds are more prone to getting lost. It is better to soak the diamond ring and clean using a toothbrush. Then use warm water to rinse and use a paper towel for drying.