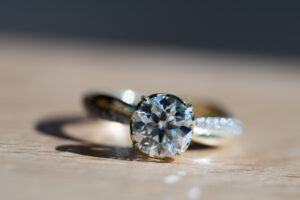 Engagement rings are a symbol of love and commitment, and choosing the right one can be a daunting task. With so many styles, materials, and designs to choose from, it can be overwhelming to know where to start. In this article, we will explore the latest trends in engagement rings to help you find the perfect ring for your significant other.
Unique Gemstones
While diamonds are still the most popular choice for engagement rings, many couples are opting for unique gemstones to add a personal touch to their ring. Sapphires, emeralds, and rubies are becoming increasingly popular, with their bold colors and unique characteristics making them stand out. Many couples are also choosing birthstones or other meaningful gemstones to incorporate into their engagement ring design.
Rose Gold
Rose gold has been a popular choice for several years now, and it shows no signs of slowing down. This warm and romantic metal complements any skin tone and pairs well with a variety of gemstones. Rose gold engagement rings offer a modern twist on a classic look, and their popularity is expected to continue to rise.
Vintage-Inspired Designs
Vintage-inspired engagement rings are making a comeback, with many couples opting for rings with intricate details and delicate filigree work. These rings offer a sense of nostalgia and romance, with their unique designs and vintage appeal. Many vintage-inspired engagement rings feature Art Deco or Edwardian designs, with geometric shapes and intricate scrollwork.
Minimalist Bands
For couples who prefer a simpler look, minimalist bands are a popular choice. These engagement rings feature a clean and simple design, with a focus on the beauty of the metal and the gemstone. Many minimalist bands also feature a single diamond or gemstone, which adds a touch of elegance and sophistication to the design.
Three-Stone Rings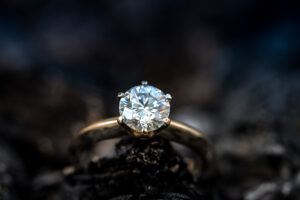 Three-stone engagement rings have been a popular choice for several years now, and their popularity shows no signs of slowing down. These rings feature three stones, with the center stone typically larger than the two side stones. Three-stone rings are said to represent the past, present, and future of a relationship, making them a meaningful choice for many couples.
Conclusion
Engagement rings are a symbol of love and commitment, and choosing the right one is an important decision. The latest trends in engagement rings offer a variety of styles and designs to suit any taste and budget. Whether it's a unique gemstone, a rose gold band, a vintage-inspired design, a minimalist band, or a three-stone ring, there is a trend to suit every couple's preferences. By keeping up with the latest trends, couples can find the perfect engagement ring to symbolize their love and commitment.