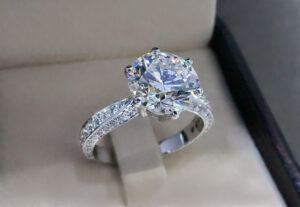 Diamond rings are a popular choice for engagements, weddings, and other special occasions. However, buying a diamond can be an expensive affair. That's why it's important to know some diamond shopping tips to save money. Here are some tips to consider when shopping for diamond rings.
Cut
The cut of a diamond plays a significant role in determining its value. It accounts for around 50% of the diamond's worth and is the only factor that humans can control. While many consumers focus on carat weight, clarity, and color, they often overlook the importance of the diamond cut. When shopping for diamond rings, consider the form and the diamond cutter's skill in determining the cut quality. Only round brilliant diamonds are graded, and they have ideal dimensions that are as round as possible. Other diamond forms, such as ovals, can vary in shape, so it's essential to check symmetry and polish when assessing non-round brilliant diamond cuts. Opting for a "very good" cut over an "excellent" one can help save money without compromising on quality.
Carat
Diamond carat weight is another factor that can significantly impact the price of a diamond. Many people have a specific "number" in mind when shopping for diamond rings. However, going for a slightly lighter diamond can save money without compromising on the overall look and feel of the ring. It's important to remember that "carat" refers to weight, and the difference in size between a 95-carat diamond and a 1.01-carat diamond can be barely noticeable. Therefore, it may not be worth paying extra for a slightly larger diamond.
Clarity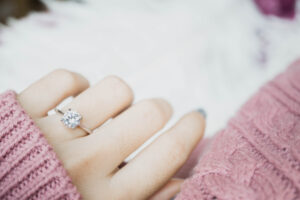 Clarity is another important factor when shopping for a diamond ring. It's easy to get caught up in the idea of a "flawless" diamond, but most diamonds have features that make them unique. Clarity grading is done in a lab with 10x magnification, so some inclusions may not be noticeable to the naked eye. Choosing a diamond with a clarity grade of SI1 or "eye clean" SI2 can save you money without sacrificing beauty. If you're looking to save even more, an I1 diamond with an off-center inclusion may be hidden by the glitter or covered by a prong.
Color
The color of a diamond can also impact its price. When choosing a diamond, consider the color of your ring's metal. For yellow or rose gold mountings, choose a diamond with a "near-colorless" to "light tint" grade. For white gold or platinum mountings, a near-colorless diamond can save you money.