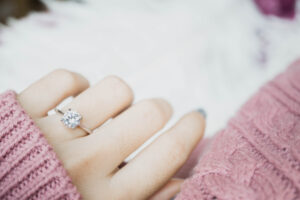 Natural diamonds and lab diamonds have a lot in common. The first thing they have in common is that they grow in harsh environments. Natural diamonds are formed in the earth's crust, while lab diamonds are created in high-pressure, high-temperature environments in a lab. They also have a lot of similarities in terms of visual, physical, and chemical composition, making it difficult to tell them apart. Only an expert will be able to tell the difference between natural and lab-grown diamonds.
In this article, we look at the color of a lab-grown diamond.
The IGI Scale And The Lab-Grown Diamond Color Grade
Diamonds exist in a variety of forms, sizes, and colors, irrespective of whether it is natural or lab-grown. The hue of traditional white diamonds is also graded, usually on a scale of D to Z. Necklaces, earrings, and diamond rings all contain these brilliant jewels. The International Gemological Institute certifies lab diamonds and grades them based on cut, clarity, color, and carat weight.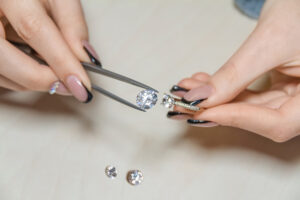 Using a color scale, IGI certifies diamonds. The lower the hue of a diamond, the higher its grade will be. Less color usually means more glitz. Color grading ranges from D, which means colorless, to Z, which indicates a distinct yellow or brown tint. Diamonds in grades E and F seem colorless to the naked eye. The average buyer will not be able to discern the difference between D, E, and F. Only a gemologist can tell the difference between D, E, and F color grades.
Lab-grown diamonds with Color grades G to J appear colorless to the human eye, but they aren't as good as F, E, and D grades. A G color lab diamond, as well as H, I, and J graded diamonds will cost you far less. Diamonds in color grades K to M have a slight tint to them; if you look closely, you can discern a mild yellow color. Although these diamonds are nonetheless lovely and have a warm tone, they are not of great quality.
Final Thoughts
When picking a diamond, the color grade of the diamond is one of the two most significant elements to consider. The color grade can be a visual diversion that influences sparkle based on the ring setting, diamond cut, diamond carat, etc. You can speak to a jewelry expert to know more about the effects of color on a diamond.