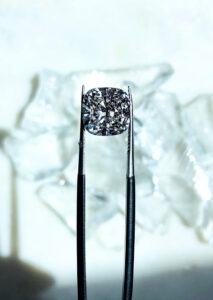 You would want elegant diamond jewelry to be the perfect gift for your loved one on your wedding anniversaries or birthdays. A few of our favorite items to give are diamond jewels that glitter and shine while also being sustainable and environmental-friendly. Lab-grown diamond jewelry is gaining much-deserved prominence as the approach to sustainability continues to expand.
Diamonds created in a lab are physically, visually, and chemically equivalent to diamonds found on the ground – plus they're less expensive. Look no further if you're intending to propose this year with a sustainable engagement ring or if you're looking for a stunning piece of lab-grown diamond jewelry.
Let's have a look at some of the diamond jewelry and keepsakes that would be ideal to give as gifts this festive period and in the New Year.
Julia Pavé Diamond Engagement Ring
It only takes a little glimmer to make a big difference. This lab-grown diamond engagement ring is wonderfully timeless with its four-prong setting and pavé band. This diamond ring can be customized to your loved ones' preferences with a range of diamond cuts and metals.
Lab-Grown Diamond Stud Earrings
A pair of diamond stud earrings is a must-have for any jewelry box. These lab-grown earrings include a four-prong setting with diamonds that have been hand-selected for maximum sparkle.
Jasmine Bezel-Set Diamond Engagement Ring
Experts anticipate that minimalism will be a popular engagement ring theme in 2022. While halo engagement rings and bigger stones were popular in 2021, a greater number of people will elect a "less is more" design this year. One of the favorites is the bezel-set diamond engagement ring, which comes in a number of metals and may be custom engraved to give your everlasting moment an even more memorable touch.
14K Certified Classic Diamond Tennis Bracelet
A diamond tennis bracelet is timeless. Hand-curated round diamonds are used to guarantee precise matching and sparkle in this ever-popular classic item.
Grace Tapered-Baguette Engagement Ring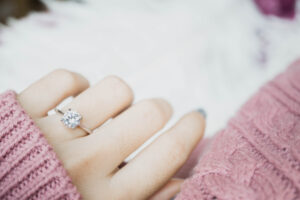 Experts have observed a rise in individualism in recent years, particularly in terms of style, jewelry preferences, and overall lifestyle, and we don't expect it to slow down in the near future. Instead of following the pack, an increasing number of people are choosing what is best for them. A diamond ring, particularly an engagement ring, is extremely personal. This engagement ring is ideal for someone who appreciates a classic yet unique style.