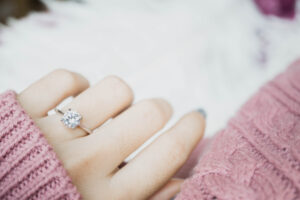 If you are planning to get an engagement ring but do not have much amount to spare, don't fret, as there is a wide variety of options available for you that can fit your budget. You can get a lot of gorgeous engagement ring designs even if you are on a low budget. The following are some of the best ring styles you can consider if you want to get engagement rings for more affordable rates:
Solitaire Setting
Well-known for its simplicity and minimalistic design, a solitaire ring creates one of the stunning and affordable options for you to get. This ring features a single gemstone set on a simple band made of any precious metal. There are no delicate designs or extra embellishments for this specific ring setting, hence, you can save a great amount on your engagement ring when compared to many other ring settings that come with intricate designs and details.
But as this setting gives more importance to the center diamond, setting a small diamond for your solitaire ring might not be a better option. But getting bigger diamonds can cost you a huge amount. You can solve this problem by getting lab grown diamonds that are comparatively cheaper than natural ones. Hence, by getting lab-created diamonds, you can get a bigger stone for your budget.
Also, it is better to avoid platinum if you want to make your solitaire ring more affordable. You can go for gold or even silver to get cheaper engagement rings.
Gemstone Engagement Rings
There are different alternative gemstones available for you to set in your engagement ring that are very affordable than real diamonds. If you prefer the look of diamonds for cheaper rates, then cubic zirconia, white sapphire, and moissanite are suitable for you. There is also a wide range of colored gemstones including ruby, blue sapphire, citrine, topaz, etc.
Engagement Rings With Fancy-Shaped Diamonds
Diamonds with fancy cuts including princess, oval, cushion, heart, pear, etc. are more affordable than diamonds. They can also make your ring stunning and unique at the same time.
Engagement Rings With Smaller Diamonds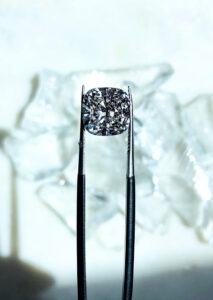 The price per carat of smaller diamonds can be extremely lower than bigger diamonds. For example, a set of smaller diamonds with a combined weight of 1-carat can be very cheaper than a single diamond with the same carat. There is a wide range of ring settings that come with smaller accent diamonds including halo, cluster, etc. They can be a cheaper alternative to rings with bigger diamonds.
If you are on a budget, make sure to consider these styles to get beautiful and affordable engagement rings.