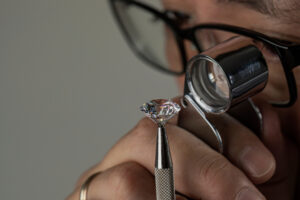 Tiny diamonds are put inside a carefully cut channel in a channel set ring. To keep the diamonds safe, most channel set rings feature a little lip that extends just over the edge. Some channel set diamond rings have grooves built into the channel to keep the tiny gemstones or diamonds in position. A channel setting is almost identical to a pavé setting, except the diamonds lining the band are secured with thicker metal. The setting is snag-free because of the lack of prongs that hold the stones in place.
Why Channel Setting Is The Right Choice For You?
Your ring will have more elegance and glitter with a channel setting. This setup is snag-free and secure because it does not have any prongs. A channel set ring attracts more attention than a solid band due to the extra diamonds. Wedding bands and stackable rings with smaller stones without a center diamond are very popular in channel settings.
One main advantage of channel setting is that this setting is capable of holding the center stone firmly in position. The chances of the center stone coming loose are very slim in this setting. In addition to that, the channel setting could also improve the diamond's brilliance. This setting will do that even if the center stone is a natural or lab-grown diamond. If you are having an active lifestyle, the channel setting is the ideal choice for an engagement ring because it won't snag on clothing.
Resizing A Channel Setting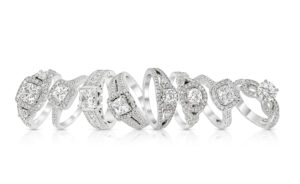 Resizing channel set rings is challenging because the diamonds are set within the ring. Resizing a diamond ring normally entails cutting the shank and then adding or subtracting metal, which isn't always viable with a diamond-set band. As a result, resizing may or may not be available, depending on the type of channel set ring you select.
Resizing is usually not achievable if you prefer a channel set ring with diamonds that cover the entire ring. Since the resizing process changes the ring's circumference, it will no longer be able to securely contain the diamonds. During the resizing procedure, the channels may get twisted, preventing the ring from securely holding the diamonds.
When you select a channel setting with diamonds covering almost half of the ring, you may make minor changes to the ring's size. Because channel set engagement rings have limited resizing options, it's crucial to know your fiancé's ring size before deciding on this style.