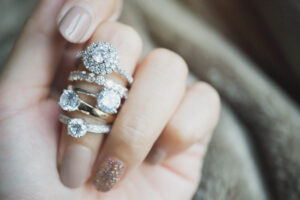 Emerald-cut diamonds can make for beautiful and unique engagement rings for a number of reasons. Let us discuss some of the key characteristics that make emerald-cut diamonds a popular choice for this special piece of jewelry.
What Are Emerald-Cut Diamonds?
It is nothing but a rectangular emerald-cut diamond with beveled corners. Its elongated design and open facets collect and reflect light uniquely. The emerald cut is called after the beveled-cornered emerald gemstone. Due to its classic and refined aesthetic, the emerald cut is one of the oldest diamond cuts. It is used in engagement rings, earrings, pendants and bracelets. Emerald-cut diamonds have a softer, more subtle shine than round diamonds, which have more facets. Because of its broad, open facets, an emerald-cut diamond has a subdued shine. This gentler shine is regarded as more elegant and refined, making emerald-cut diamonds appealing for modest looks.
Why Emerald-Cut Diamonds Make A Perfect Engagement Ring
Timeless Elegance: Emerald-cut diamonds have a rectangular shape with beveled corners, which gives them a classic and sophisticated look. This style has been popular for centuries and has remained a timeless choice for engagement rings.
Unique Appearance: The rectangular shape and elongated facets of emerald-cut diamonds give them a distinctive appearance that sets them apart from other diamond cuts. The large, open facets of an emerald-cut diamond allow it to capture and reflect light in a unique way, creating a stunning visual effect.
Versatility: Emerald-cut diamonds can be set in a variety of ring styles, from traditional solitaire settings to more modern and contemporary designs. This versatility makes them a good choice for people who want a ring that will stand the test of time and look beautiful no matter what the current fashion trends are.
Affordable: Emerald-cut diamonds tend to be less expensive than round diamonds of the same size and quality. This is because they are generally less popular than round diamonds and require less material to cut and shape. As a result, they can be a good option for people who want a high-quality diamond ring without breaking the bank.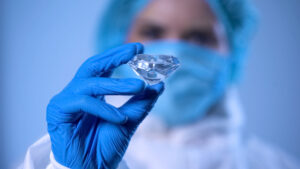 Elegant Setting Options: Emerald-cut diamonds are often set in prong or bezel settings, which allow the diamond to be prominently displayed and maximizes its unique appearance. These types of settings also tend to be more secure, ensuring that the diamond stays in place and is less likely to be damaged.
Overall, emerald-cut diamonds make for beautiful and unique engagement rings that are timeless, versatile and affordable. Whether you prefer a traditional solitaire setting or a more contemporary design, an emerald-cut diamond can be the perfect choice for your engagement ring.