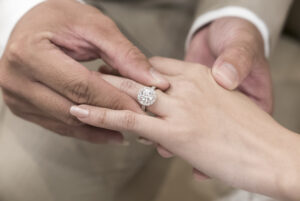 A few years before, most brides used to love extravagant engagement rings and wedding bands with bigger diamonds and other gemstones. But the trend is now greatly shifting towards simpler designs. A lot of brides now give priority to the overall appeal of the ring than the size of gemstones.
If you are someone who loves minimalistic designs for your wedding bands, then the following are some of the best options for you to consider:
Bands With Personal Engravings
This is one of the best ideas to create personalized wedding rings while keeping them simple. You can get a simple band made of any metal and choose to add a meaningful message or symbol that symbolizes the special relationship between you and your partner.
You can engrave anything, like dates, names, initials, an inside joke, a romantic message, and even a bible verse, onto your wedding bands. This simple detail can make your wedding band stunning and special. Engraved bands can be a wonderful idea for you to make wedding rings priceless and unique.
Eternity Bands
They create a stunning yet simple option for your wedding bands. If you prefer a simple wedding ring but want it to sparkle, consider an eternity band. This ring involves a set of accent stones covering the entire circumference of the band. Small metal prongs will be used for securing the stones to the band. The small stones covering the ring can offer a stunning sparkle and special appeal for the ring.
Additionally, an eternity ring comes with great symbolism. As the name suggests, it signifies the everlasting love between you and your partner. Hence, this ring can be a great choice for people who want their wedding bands to have a special meaning.
Also, as these rings have smaller stones, they can be less costly than rings that come with bigger stones. You can save a significant amount on your eternity ring by getting lab grown diamonds instead of mined ones.
Simple Wedding Bands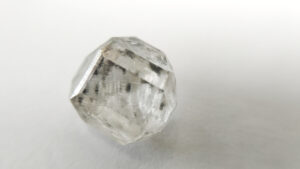 There is no need for your ring to contain stones or designs for it to become stunning. Just a plain, simple band can create an elegant piece of jewelry for brides who opt for minimalistic options. This can also be a great way to make your wedding bands more classic and timeless.
Additionally, simple wedding bands are very versatile. So you can pair them with a wide variety of engagement ring designs.
Make sure to consider these options if you want a simple yet spectacular wedding band for your special day.