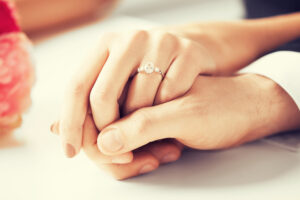 The pave setting is one of the most popular ring settings used in engagement rings and wedding bands. This setting makes your ring stylish, shiny, and luxurious. Through this article, we list the pros and cons of pave settings so that you can make a better decision.
Pave Setting
A pave ring attracts people with its wonderful shine and extravagant look. It involves many tiny diamonds set on the exterior of the ring's band. This creates an illusion that the band of your pave ring is made up of diamonds. The pave setting can have a single row of small diamonds or other gemstones or can contain multiple rows.
Having a "pave" band can elevate the appeal of even the simplest designs in engagement rings. You can combine the pave setting with other ring settings including solitaire, halo, etc. to enhance their appeal. Hence, it remains one of the popular choices of people for engagement rings.
As the diamonds set on the band will be usually around 0.01-0.02 carats, they can be affordable than big diamonds. If you cannot afford a pave ring made up of natural diamonds, it is possible for you to get lab grown diamonds. They create an affordable option for your pave rings.
How Are Diamonds Set In A Pave Ring?
The stones in a pave setting are held in place using tiny prongs or small metal beads. These stones will be first placed into small holes that are drilled into the setting. This can offer additional security to your stones thereby reducing the risk of losing them. But still, there can be a small possibility to lose the stones, especially, when struck with great force. However, you can easily replace them without spending a huge amount, as these small stones are highly affordable.
Pros Of Pave Setting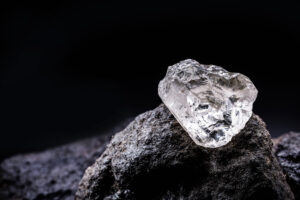 Some of the appealing benefits of the pave setting are listed below:
The small stones in the band can enhance the appeal of the center stone thereby accentuating the look of the entire ring.
This setting can create wonderful brilliance and shine with the large number of small diamonds it carries.
It can be combined with a wide array of other ring settings, which makes it a versatile option.
Cons Of Pave Setting
The pave setting has some drawbacks that are mentioned below:
Cleaning can be difficult.
It can be difficult to resize this ring.
The pave stones can get loose or dislodged when struck with a hard blow.
Despite the drawbacks, a pave setting creates a brilliant and stunning option for your engagement ring.