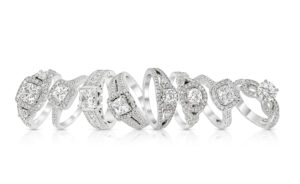 Diamonds are beautiful, gleaming jewels that make every event and moment unique. It's no wonder that most jewelry collectors choose diamonds, particularly diamond rings, to remember momentous occasions. These stunning stone-studded rings are wonderful gifts. Diamonds are incomparable to anything else, whether you're giving one to a loved one, purchasing one for an engagement ring, or indulging yourself in some bling.
Regardless of the reason why you purchase a diamond ring, you nearly always spend a significant amount of money on these gleaming stones. When making a large investment in something so valuable, you must guarantee that you are not deceived. That is why selecting a diamond ring cautiously is so important.
Here are some tips on how to avoid being misled while purchasing diamond rings.
What You Should Know Before Purchasing A Diamond Ring?
Think again if you believe a diamond's gleaming sheen can tell you whether it's genuine or fake.Due to their glossy look, most people confuse fake stones for diamonds.It's possible that the stone you believe is a diamond is actually zirconia. It's a synthetic diamond that looks and feels like a real diamond but isn't. To add to the confusion, it's difficult to discern the two differences merely by glancing at them.
There are a few basic actions you may take to ensure that you are purchasing a genuine diamond ring. Knowing the fundamentals of diamonds, selecting a respected jeweler with care, and requesting diamond certification are just a few examples.
How Important Is Diamond Certification?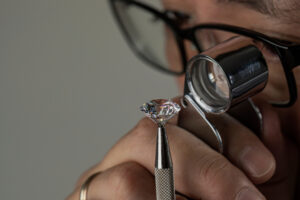 The diamond certification is what decides whether the diamond is genuine or not. When you choose a diamond, trustworthy jewelers will always offer you one. Gemological institutions or grading laboratories certify real diamonds. A certification provides protection in the event that the ring you purchase turns out to be a counterfeit. In fact, before purchasing a diamond ring, get the certification. Even if you're buying a lab-grown diamond, you should ask for the certificate.
Buy From Reputed Jeweler
Whether shopping online or in-store, only buy diamond rings from a trustworthy jeweler. Don't be enticed solely by steep discounts. Look for stores and jewelers with a lengthy history in the industry. Also, see whether they have any reviews or active social media accounts. Enquire whether they can offer proof that the diamonds in the rings they're selling are genuine.